talenta / company / about us

We understand the importance of having a good team and the hassle of managing it. That's why we are here to take care of the hassle so you can focus on expanding your business.
We started with a problem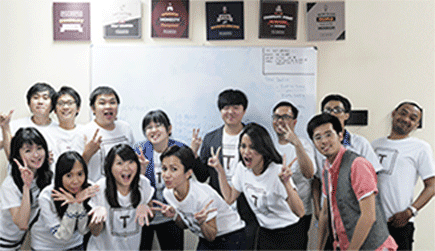 At the end of 2013, there was Bridge Inc., a boutique consulting service for startups that are expanding to Indonesia. We helped more than a few startups, but soon realized that service is not something that can scale. With that in mind, our team began looking for problems. Lo and behold, we found that the biggest issues companies in Indonesia face is hiring good people. And in Human Resource language, recruitment.
Armed with an investment from Grace Tahir of Mayapada Group, we developed and launched InternAt, a recruitment platform for university students looking for internships, part-time jobs, and their first jobs as a fresh graduate. We had gotten more than 500 sign-ups within a few weeks of our beta launch with more than 30 companies participating. Even then, we realized that we want something bigger and better in the long run. For inspiration, we talked to a couple of venture capitalists, and a-ha! We found a greater problem to solve.
HR made simple. And awesome
---
As we zone in to Human Resource, we realize that a lot of small and medium businesses are still downplaying the importance of HR. The majority of small and medium businesses are using spreadsheet for their payroll, e-mail for leave requests, and even using paper for some of the processes. Why can't we all just breeze through all the paperwork? This is a problem and also an opportunity for us to step in and become the cost-effective yet powerful solution for growing businesses. For a while now, most of us are not able to purchase HR software because they are too expensive, not catered for small teams, and take too long to train and implement the system. We believe that a software should be easy to use, intuitive, and available for all sizes of companies. Therefore, Talenta.
Talenta: the best way to manage your employees
---
Talenta is a cloud-based Software as a Service that aims to help small and medium businesses manage their HR processes, from attendance, leave requests, overtime and most importantly: payroll. Talenta encourages efficiency, transparency, and self-sustenance, because we believe that it is through these that a company can grow. We intend to serve more than 10,000 companies in 5 years which means more than 200,000 employees. This is something that we can only achieve with your support. Don't believe us? Why not try us now and see it for yourself?